Today, we are participating the Nordic APIS 2017 Platform Summit to explore the world of APIs and, in particular, get an insight into how the world will look when open APIs become everyday reality for more and more companies.
How do you scale up your API platform? How do you deliver cutting-edge APIs? How do you market its developer portal? How do you write really good documentation?

These are just a few of the questions discussed on the Nordic APIS 2017 Platform Summit.

Find out more about APIs and how to think about API-focused integration.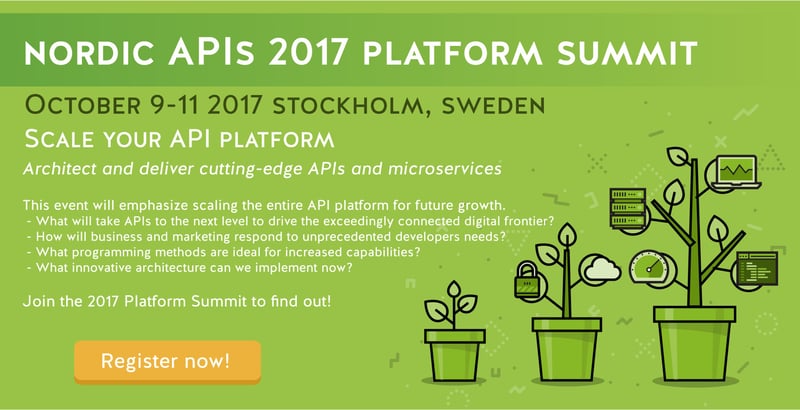 About Nordic APIs 2017 Platform Summit
Attend The 2017 Platform Summit in Stockholm and learn how to Scale your API Platform, architect and deliver cutting-edge APIs and microservices. As the 2016 Platform Summit focused on architecting and designing APIs, our 3rd Platform Summit will emphasize scaling the entire platform for future growth. In order to respond to increased demands from web, mobile, and Internet of Things applications, APIs must be inherently scalable, agile, as well as built with longevity in mind.
What will take Application Programming Interfaces to the next level to drive the exceedingly connected digital frontier? That's what we want to know. What innovative architecture can we implement now? What programming methods are ideal for increased capabilities? How will business and marketing respond to unprecedented developers needs?